100 Plants You Can Grow In A Garden Tower
Are you wondering what you can plant in a Garden Tower 2?
In the vertical Garden Tower 2 you can grow 50 plants in a 4 square foot small space.
Here are some of the things you can grow:
tomatoes
peppers
cucumbers
root vegetables
melons
strawberries
salad greens
herbs
flowers
This post contains affiliate links, which means I receive a small commission, at no extra cost to you, if you make a purchase using this link.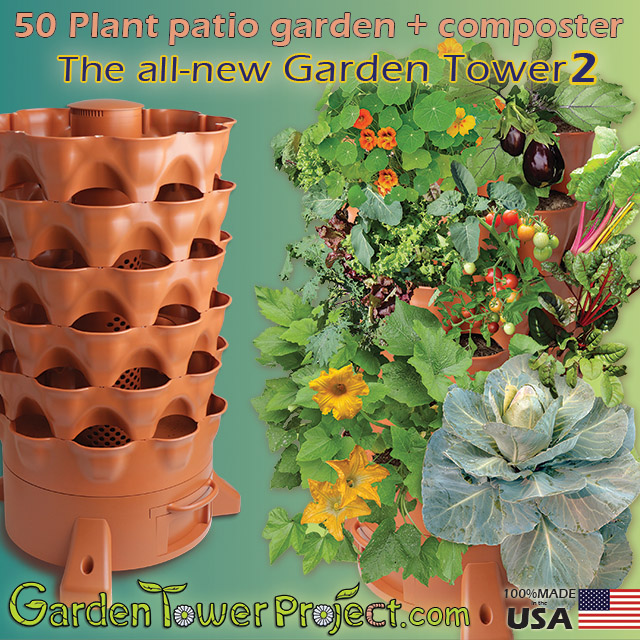 Continue reading to learn which plants will grow in a Garden Tower 2.
What Is The Garden Tower 2 ?
The Garden Tower 2 is a vertical composting garden planter.
It has a middle column organic composter that can turn your kitchen scraps into nutrient-rich organic fertilizer for your plants.
The Garden Tower 2 is easy to maintain and perfect for urban small space gardening, apartment gardening, and patio or balcony gardening.
Best Plants For Garden Tower 2
The best plants to grow in your Garden Tower 2 are the "bush" and "container" varieties of fruits and vegetables, herbs, and greens.
What Vegetables Can Grow In A Garden Tower
You have a lot of options when it comes to growing fruits and vegetables in your Garden Tower 2. Here are 47 fruits and vegetables that grow well in Garden Towers:
Arugula
Lima Beans
Bush Beans
Pole Beans
Shell Beans
Fava Beans
Beets
Broccoli
Brussels Sprouts
Cabbage
Chinese cabbage
Cauliflower
Carrots
Chard
Chicory
Collards
Cucumbers
Dandelion
Eggplant
Endive
Escarole
Gourds
Kale
Kholrabi
Leeks
Lettuce
Melons
Mesclun
Mustard Greens
Onions
Dwarf Okra
Parsnips
Peas
Bell Peppers
Jalapeno Peppers
Cayenne Peppers
Radicchio
Radishes
Sorrel
Spinach
Squash
Strawberries
Sweet Potatoes
Tomatoes
Cherry Tomatoes
Roma Tomatoes
Turnips
38 Herbs You Can Grow In A Garden Tower 2
Herbs can be easily grown in the Garden Tower 2. Here is a list of some of them:
Angelica
Anise Hyssop
Basil
Calendula
Catmint
Catnip
Chamomile
Chervil
Chives
Cilantro (Coriander)
Dandelion
Dill
Echinacea (Coneflower)
Feverfew
Flax
Garlic Chives
Goldenseal Hyssop
Lavender
Fennel
Lemon Balm
Marjoram
Milk Thistle
Mint
Nettle
Oregano
Parsley
Passion Flower
Pleurisy Root
Rosemary
Sage
Salad Burnet
Saltwort
Savory
Shiso
Stevia
Thyme
Valerian
Wormwood
19 Flowers You Can Grow In A Garden Tower 2
Flowers are another great option for growing in your Garden Tower 2. You can grow edible and ornamental flowers. Here are some suggestions:
Aster
Calendula
Carthamus
Dianthus
Marigolds
Morning Glory
Nasturtiums
Pansies
Petunias
Phlox
Rudbeckia
Safflower
Salvia
Snapdragons
Strawflower
Verbena
Violas
Yarrow
Zinnias
Can You Use Garden Tower 2 Indoors?
The Garden Tower 2 can be used both indoors and outdoors.
When using the Garden Tower 2 indoors you can choose not to use the composting column but will then need to add your own fertilizer to the soil.
You can also get the Grow Light Kit to provide enough light for your plants indoors all year round.
Gardening With A Garden Tower 2
Gardening with the vertical Garden Tower 2 lets you easily grow 50 fruits, vegetables, or herbs in only 4 square feet of space.
It is a great way to grow your own organic food in a small space indoors or outdoors.
Happy Growing!