Indoor Gardening Ideas For Growing All Year Round
Do you want to start gardening indoors?
Not sure where to start?
In this article you'll find some excellent indoor gardening ideas that are great for beginners and easy to start.
This post contains affiliate links, which means I receive a small commission, at no extra cost to you, if you make a purchase using this link.
The Benefits Of Indoor Gardening
Indoor gardening is a great way to grow your own food year round.
Growing your food indoors with an indoor garden has many benefits.
You don't have to worry about the weather outside
It can be done without soil
You don't need sunlight
You'll have healthier produce than what you'd get from the grocery store
Less issues with pests
What Can You Grow Indoors Year Round?
You have many options when it comes to what you can grow indoors year round.
Here is a list of some of the things you can grow indoors:
Tomatoes
Lettuce
Strawberries
Kale
Cabbage
Peppers
Potatoes
Squash
Herbs
Mushrooms
Indoor Gardening Ideas For Growing Food Indoors
Here are some great indoor gardening ideas for growing food at home all year round.
Grow Mushrooms
You can easily grow your own organic, non-GMO mushrooms year round with mushroom growing kits.
Here are some mushrooms you can grow at home:
Use An Indoor Hydroponic Growing System
With hydroponic gardening you can grow your own food at home without any messy soil.
You can get indoor gardening hydroponic systems that come with:
their own growing lights
timers
wifi connectivity
water level and nutrient alerts
They are easy to use and great for beginner gardeners.
Use The Kratky Method
The Kratky method is another way of growing food with water instead of soil.
With the Kratky method your food grows above nutrient-rich water and doesn't use any electricity.
This method uses net cups to hold the plant above a container filled with water.
Some great things you can grow with the Kratky method are lettuce and herbs.
Use A Vertical Garden Tower For Indoor Growing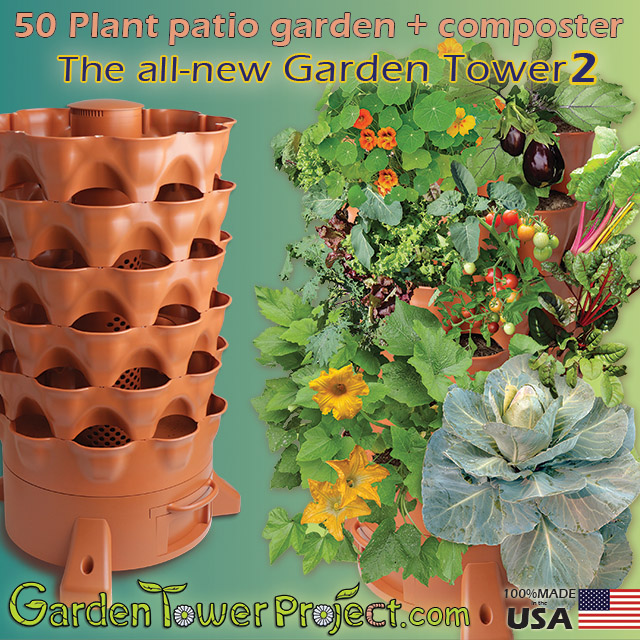 With a vertical Garden Tower you can grow a lot of food indoors.
With this vertical garden you can grow 50 plants in only 4 square feet.
It grows food and makes compost at the same time by turning your kitchen scraps into organic fertilizer.
With these LED grow lights you can grow fresh organic produce all year long.
Some of the foods you can grow with the vertical garden are:
Strawberries
Tomatoes
Cucumbers
Sweet potatoes
Cabbage
Broccoli
Carrots
Brussel sprouts
Cantaloupe
There are over 100 plants you can grow with a Garden Tower.
Click here to learn more about growing with a vertical garden.
Regrow Vegetable Scraps
An easy way to get started with indoor gardening is to regrow your vegetable scraps.
A lot of your kitchen scraps can be regrown on your kitchen counter.
Some of the foods you can regrow are:
Green onions
Cabbage
Lettuce
Learn more about regrowing vegetable scraps here.
Grow Herbs On A Window Sill
Always have a fresh supply of homegrown herbs by growing an herb garden kit on your windowsill.
With this window sill herb garden kit you can grow 10 herb
heirloom non-GMO seeds.
The herb seeds included in this kit are:
Basil
Rosemary
Chives
Parsley
Cilantro
Lavender
Oregano
Dill
Sage
Thyme
Another great option for growing herbs indoors is this planter and herb kit.
Use A Grow Tent
With a grow tent you can easily control the temperature, humidity level, and light that your plants receive.
You can grow with soil or with hydroponic systems in a grow tent.
Grow tents come in many different sizes to fit the space you have in your home.
Grow Sprouts In A Jar
Some of the easiest things to grow indoors are sprouts.
One of the fastest ways to grow sprouts is with a jar and mesh lid.
Sprouts are packed with nutrition and ready to harvest in less than a week.
They don't take up much room and can be grown on your kitchen counter.
And by using a jar sprouting kit you can grow two different kinds of seeds at the same time.
Here is a list of sprouts you can grow at home.
Grow In Pots With Soil And Grow Lights
You can grow almost anything with soil and the right amount of light.
By using grow lights you don't need to worry about having enough sunlight in your home.
Growing racks like this one make it possible to grow your plants indoors without any sunlight.
Use A Wheatgrass Growing Kit
Grow and juice your own healthy wheat grass at home.
Your wheatgrass will be ready to be harvested and juiced within only 10 days.
You can get wheatgrass growing kits like this one that comes with everything you need that make growing your own wheat grass at home really easy.
This wheatgrass growing kit comes with:
Growing trays
Wheatgrass seeds
Soil
Fertilizer
Stainless steel juicer
You can also get hydroponic wheatgrass kits like this one for growing without soil.
Both wheatgrass growing kits are great options.
Grow Microgreens
Microgreens are another healthy and delicious option that can easily be grown at home.
Some microgreens that you can grow are:
Sunflower
Pea
Beet
Cabbage
Mustard
Radish
You can get starter kits that come with everything you need to get started growing microgreens at home. Here some great microgreens starter kits to get started with:
Final Thoughts On Indoor Gardening Ideas
You have many options when it comes to indoor gardening. You can grow many different herbs and vegetables in either soil or hydroponically with water.
Choose what will work best for you and you'll soon be harvesting your own homegrown food.